PREMIUM SWISS QUALITY
SWISS INSPIRED x HANDCRAFTED
Located in Raine Square, Brezel Brothers is Perth's first Swiss-style pretzel concept, providing an Australian take on the proven tradition of Swiss quality.
Brezel Brothers opened in September 2018 and is located within the newly re-developed Raine Square, right in the heart of Perth's CBD.
Building on the Swiss notion of a longstanding generational dedication to perfecting food craft, Brezel Brothers combines Swiss quality with an Australian passion for the unknown. Together, we build on the perfected traditional Swiss culinary concept of the salted brezel, and add our own twists through the no-holds-barred Aussie approach to experimentation.
With proven tradition also comes our natural New World passion for delicious coffee, so with our sandwiches we offer our favourite seasonal blends and single origin coffees, done in any style or form that meets your preference.
Above all, we believe in having fun through the shared medium of company, coffee and food. We love delicious products, and we love to share them with you!
Location
300 Murray Street
at Raine Square
Perth, WA 6000
Hours
Mon-Fri 7a-4p

OUR COFFEE
Making delicious coffee is fundamental to our concept here at Brezel Brothers, and our goal is to share this passion and knowledge of specialty coffee with our customers, just without the fuss!
With our purpose-built setup and partnership with Loaded Craft Coffee Roasters, we proudly stand behind our espresso blend, which rotates through the year as different coffees from around the world come into their seasonal best.
And for those after a taste of something a bit different, we run a series of unique, high-quality single origin coffees (both as espresso and filter), which gives us a constant range of delicious options for all our customers' tastes.
OUR BREAD
As a Swiss brezel shop (or "pretzel" as we say in Australia), our flagship product is of course the classic specialty-baked salty pretzel, which we fresh-bake in our shop daily.
A type of Laugen bread, we love this style of baking so much that we couldn't just stop there. The result is our delicious range of sandwiches using Laugen flutes and bagels.
So whether you're after a classic Swiss Cheese and Salami flute with tomatoes, salad and mustard butter, or a Tandoori Chicken roll with house-made mint yoghurt and cucumber, we have something to suit everyone.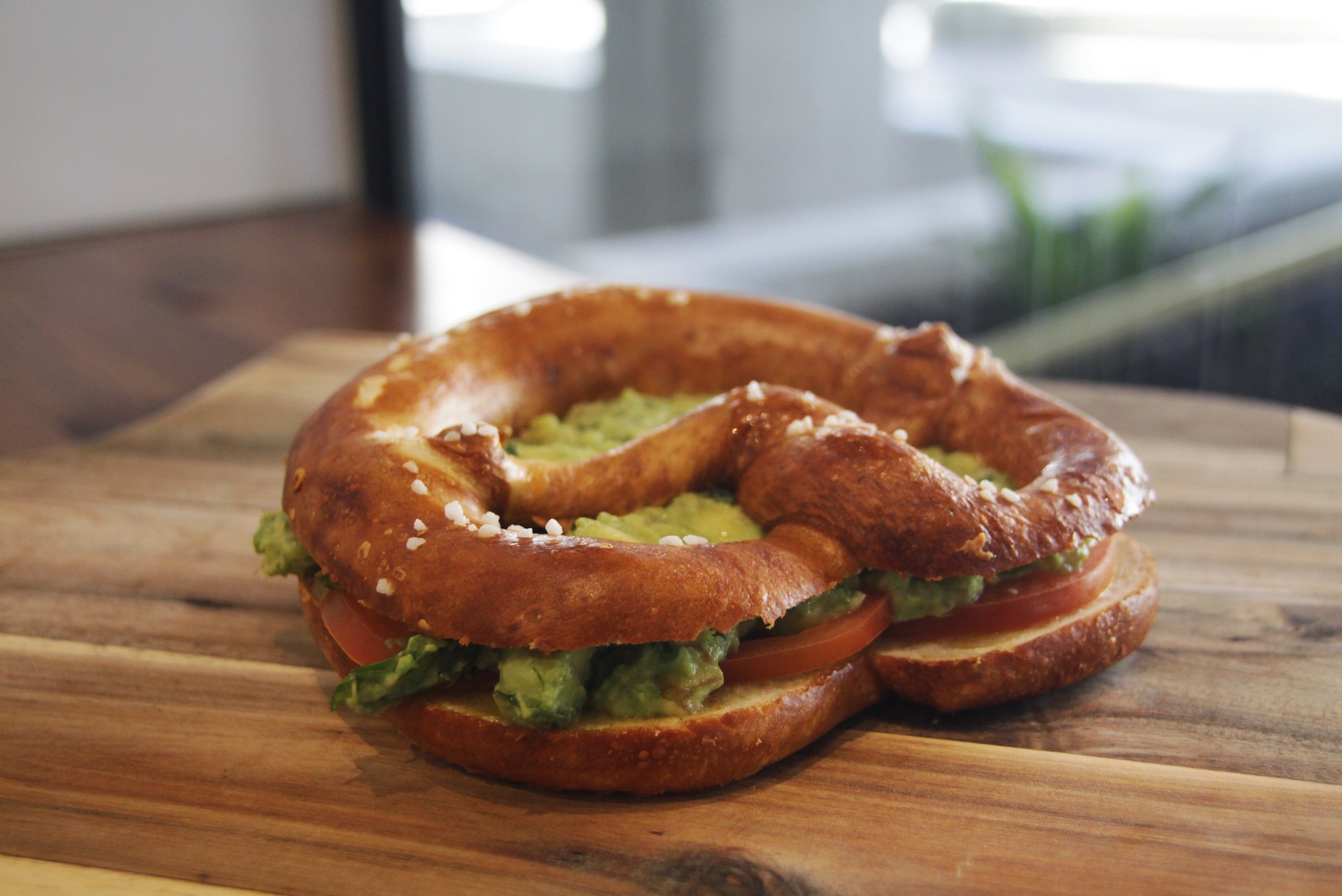 WE CATER!
Brezel Brothers' catering focuses on quality and freshness with a Swiss twist, building around our flagship product the Original Salted Swiss Brezel.
We cater for all events and do our best to meet custom requests, such as specific dietary requirements, specialised/themed recipes or other potential items (for example, king size brezels for Oktoberfest or Turkey and house-made cranberry mayo flutes for Thanksgiving).
We kindly ask that orders be placed by 12pm the day before, allowing us ample preparation time to ensure we meet your highest expectations.
All our menu items can be provided on Gluten Free bread and come cut into portions so diners can sample across a variety of options.
Submit your orders using our Contact form below and one of our friendly staff will be in touch!
We would love to hear from you and to register for our next free Coffee Tasting on the 15th of March at 5pm, please use the below form. We look forward to seeing you there!
Contact Us
We would love to hear from you!
300 Murray Street
Perth, WA 6000